How four companies took over the Internet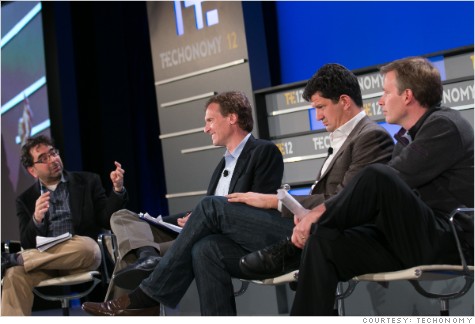 Moderator Eric Savitz (left) oversaw a Techonomy panel with Internet analysts Alec Ellison, Steve Hasker and Mark Mahaney.
TUCSON (CNNMoney) -- There are four tech companies controlling the industry's direction: Apple, Google, Amazon and Facebook. Will they still be ruling the tech field in a decade?
"At least three have established very deep moats," meaning that it's almost impossible for newer rivals to overtake them, Internet analyst Mark Mahaney (
formerly of Citigroup
) said Sunday during a panel discussion at the
Techonomy
conference in Tucson, Ariz. "Probably Apple, too."
Google
(GOOG, Fortune 500)
and
Facebook
(FB)
have the richest data sets on their users, but Amazon's data graph is probably the most valuable, Mahaney believes, because it tracks where customers are actually spending their money.
Apple
(AAPL, Fortune 500)
-- the company with the highest market capitalization in the world -- has the hardest position to defend, several of the panelists said. It can't maintain its stratospheric growth without constantly pulling new rabbits out of its hat, and rivals like Samsung are chipping away at its market.
"Apple to me is the most vulnerable," said Alec Ellison, the head of investment bank Jefferies' technology practice. "It has to maintain this innovation edge."